Terrifying monster Finestre. Where dust-bikes and cyclists age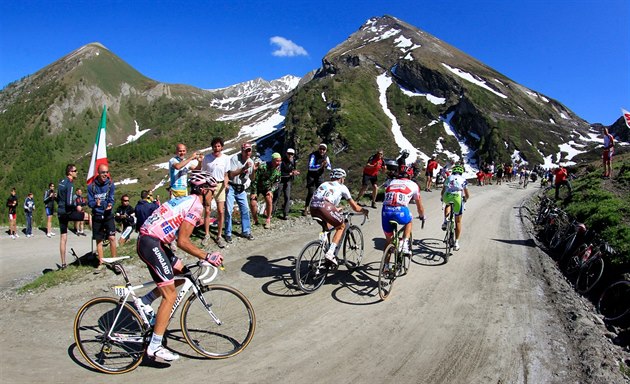 With a height of 2,178 meters, Colle del Finestre will be the highest point of this year's edition and the place where Cima Coppi is awarded, the prize for the best man at the highest peak of Gira. "I like the stage very much, because I train a lot in these places," the Italian Aru rejoiced, and the winning campaign of Friday's stage gave him hope for the fulfillment of his dreams.
The brutal hill in Piemonte was discovered by then director Gira Zomegnan Each time he planned the stage in Sestriere.For the first time, ten years ago, there was the Italian Di Luca for the glory, six years later he was the best Belarussian Kirijenka, today's colleague Leopold König in Sky.
The jump to the summit evokes a return to cycling prehistory – Kilometers of hill carries a standard sticker, its finals are the magic of the hill, the attraction of fans and the hustle of bikers.The last eight kilometers lead along the gravel road.
"When I was young, I did a cyclocross, and with such conditions I have no problem," Aru was looking forward to. Finestre had an average slope of 9 percent Rightfully claims the sticker of the heaviest climb of this year. "The hill starts on a narrow, rather steep forest road and then goes into a gravel road that is quite dazed and yet milder than the previous passage," said Roman Kreuziger, who tasted the dusty epoch four years ago.
Whatever may be dangerous in terms of mechanical disturbances, Finestre may appear, but in the past it was rather the opposite side, the descent to the valley below Sestriere. "After passing the peak, there will be an unforgettable experience – a fantastic congress.Tinkoff-Saxo said. "But Kreuziger was rushing to the top, but he, with a devil solo fighter ride, wiped out a 50-minute mank with a group with Contador and other favorites, and defended the best youngster's jersey from intrusive Kruijswijk. "Finestre must be taken as a whole, ascent + downhill. "The congress was the scene of a big comeback in 2005. When the pink Savoldelli entered the slopes of Finestre, Giro led 2:09 minutes before Simonim, the Venezuelan Rujano Was back for another 50 seconds.An hour later, the Italian mission was in danger – Simoni was virtually dressed in pink, and all of them waited again for Sestriere. But Savoldelli once confirmed once again why he was called Il Falco – Sokol. Perhaps the best run of his generation, with a racing downhill ride, eliminated all the dangers, and to Milan he was flying with a baton to the last stage. Then Giro won Tiger in front of Simon and, almost on a tragic day in the mountains, said: "Then I grew older for ten years."