Straight man in unequal battle. Jiri Vaďura would live fifty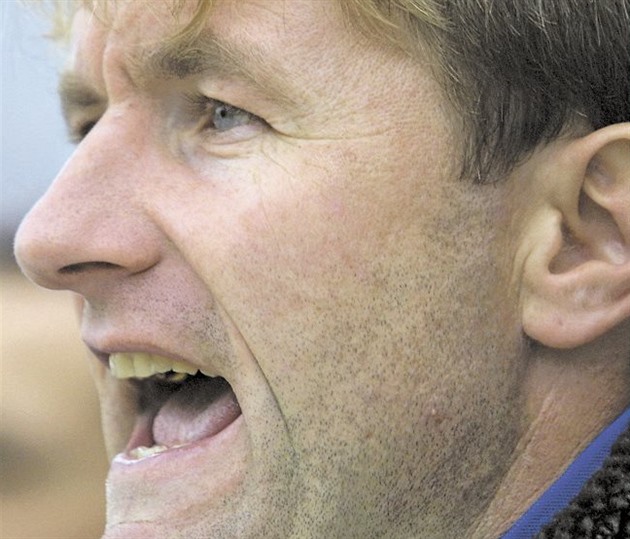 In the kitchen at my parents' round table, hangs a photo where a blonde man holds two boys around my shoulder – my brother and eyed boy in his shoes. Me. I was about twelve, I played in Holice and he watched him. I always look at her when I stand up to our Kimi outfit, and before I get out, I still have a full fridge. I look and still see her more clearly: Wow, it was George Vadura, legend of Soccer Sigma! And a straight guy, as everyone else, with whom I am talking to him now after sixteen years. I can not do it anymore. As a sports journalist, I did not miss it because of his illness that Alzheimer's named surgeons did.
Memories and stories are messing up differently.
Coach, Against which journalists revolted
From Jiří Drnovic Jiří Vadura returned as a winner. The first match in the role of coach Olomouc, where he replaced the dismissed Leoš Kalvoda during the season, managed. Still, the bench left the ruffled features on his face and without a smile, not at all like the winning premiere.
"Do not be surprised, not only was he pressured," explained Oldřich Machal, his assistant and great friend, the persistent stress. Both men said they had met with distrust before the game.From whom? "In the newspaper I read about myself so many positives that I was pretty nervous," he said ironically Vaďura.
However, the determination to elevate the team "after his" how then wrote MF DNES, he lost none. Immediately after he was replaced by Leoše Kalvodu, he shifted to veteran Hapala Bs in Drnovice and let sit on the bench offensive workhorse Siegl, whose contribution to the game he did not like from the past. "I told him that when he was going to the pitch, he had to play so he could get down to the end of the match. My counsel was held. "He spoke of fighters as the first assumption of success.
With the same fervor, he began to fight with journalists. Right on the first press, he faced a harsh recommendation to send someone else for the next time.He responded so shrewdly when the reporters began to revolt.
But the three points were in his pocket. He was helped by a thirty-three-year-old midfielder Mucha, who was the closest partner of the team. Six minutes before the end he gave a goal and the coach, together with the substitutes, launched a wild dance in front of the bench.
Otherwise, he managed to make his debut "nevaďurovsky" calmly, just occasionally coming out from under the roof with his hands folded behind his back.It was as if he were not the same man in the same stadium, who was scorned by the then drunken coach Ján Kocian for not having been nominated for the match and who was already a lecturer at Olomouc team a year ago in České Budějovice.
"Mr. Károlyi made me a disciplined subject and explained everything to me, so I'll do everything right now," Vadura promised. "The family would no longer be fined anymore," he smiled shyly. > But what Machal, the record starter behind Sigma, doubted: "Jirka is an impulsive person. Even though he's trying to be over the thing, it's possible in a few turns for a couple of rounds to get him going. "
For a few rounds, however, everything was completely different.And the appeal of Vaďura and Machala had to be ordered from Olomouc. It was short, but the wilder engagement. In the beginning, Vaďura eliminated two fans of the Sigma legends, the former representatives who returned from abroad – Radka Látala and Pavel Hapal. "Hapal has a bad shape," said Jiří Vaďura, who led the team for only a few days.
Hapal was thirty-one-year-old Hapal a month ago, and he was just wondering, "With physics, . But when I scored goals, nobody bothered. "
Vadura gave the striker the chance to improve by the end of the year. "I would welcome myself if I could leave," Hapal said.
Machala did not want to return after years to the first coaching session of Vaďury.It was as if all the injustices were still untrue. "I would not want to talk about it because it was the worst season for me. I did not want to do the assistant at all, Jirka wanted me to help him. There were so many things I do not want to get out of there. "
Vadura himself doubted himself before throwing out. "I probably do not have the right coaching." Before he died in the middle of December 26, 2007 at the age of 42, he suffered from Alzheimer's disease – according to physicians he suffered from other serious complications – he also led Prostejov and Uničov. Vaduura did not have the right luck, if so, he could be a great coach despite the bad start. They think those who know their qualities well.
"As a coach I did not experience it, but the assumptions to do.He always wanted to win, it is the main thing. He could have been a good coach. It is a pity that the disease stopped him, "regrets Michal Kovář, a former teammate from Sigma's defense.
" Jirka had the qualities for it – he was strict, he took a lot of things from Mr. Brückner. He had all the prerequisites to be a good coach, "adds Machal.
Energybet betting online And Kubicek, the former sports director of Sigma, agrees:" As a coach he could make a great career. It's sad, too sad. "
How uncompromising storyline went to training in Fujdiar
Vadura was a peculiar thing. His direct nature did not fit everyone.At that time, Olomouc's assault squadron Ladislav Fujdiar from České Budějovice certainly did not miss the training, and he sent the ball without a ball. Sigma coach Karel Brückner just turned to see nothing and continued on.
"It happened right in front of him," smiles the Blacksmith. "Jirka did not have much to do with Lada Fujidra because Fujdiar was such a beach lair, and Jirka did not like it. That's how I remember him – an uncompromising stick. I remember him like that. He was a good footballer, hard. The training was sometimes harsh. He was able to shoot anyone. "
Machala explains:" He was his. He did not even enjoy preparatory games. But he was an extremely powerful player and just. Someone did not like it, but he told you what he thinks about you.He was straight. "
Sometimes too much. Once – at least – Vadura overcame. When Sigma lost home to coach Dušan Radolský and the coach made the left defender in the dressing room. He did, however, a harsh counter-reaction and a spray of unpublished expressions. "Coach Jirk read something, and he told him in the dressing room what he thought about it. It was just over the edge. It Energybet sports bet was very difficult for the coach. After this trouble, they wanted to fire him, so I and I fought for Jirka. Then it somehow stopped. It was because he was a great player, "Machal said.
The details of a sharp exchange of views, as cabin law rules, he did not even say after years: "I can not say that.He knew he was overdone. I said to him: Kur, you can not do that! "
But if you are lucky and you are exceptional in your profession, some passwords will be forgiven you. However, Brückner knew well why he flipped his fellow team player Fujdiar. Having a non-rogue leader in the set or not, is the difference that the team will feel.
"First: he was a very good footballer. From the post of the left defender he gave a lot of goals, in the first league he has over twenty. This is a great figure on the defender, "he said, adding to Machala Džuleles, as he was nicknamed to Vadura, the benefit of the team. "He did not release anything in the game. He was a difference player who scored a goal, but he raised the team. He fought and heaved it a lot. He hated the defeat in the game. "
And the Blacksmith nods:" Well, sure.Whoever played with him had to always win, he was still going on.
> Brückner was also betting on the native from Nesovic in the early nineties at the most famous times of Olomouc football. In the 1990/1991 and 1991/1992 seasons he gained two third places with Sigma and helped him to ride Europe rigorously. The UEFA Cup was in memorable matches with Hamburg (2: 1 and 4: 1) and Real Madrid (1: 1, 0: 1).
A year later also during the battle with Juventus Turin. "He did a great deal for Olomouc. The boys played great in the cups, it was also a building block of success, "says Machala. Vadura with Sigma in league 1995/1996 celebrated league silver.The hitherto "blue" in the table did not end.
He came to Hana in January 1988 after a duel in Dukla, where he was traveling from the national youth league he played for KPS Brno. And it was clear to all that it was not a dozen cadence. "I brought Jirk out of Dukla. He became a player who helped Sigma tremendously. Those years can not be forgotten, they were great. The memories of him are beautiful. He was a complex player, a leading personality. He belonged to those who managed to solve the problem themselves in the cabin. As a player he was excellent. It was a hard, straight guy, "Kubicek stressed.
" I noticed the jirks still in the Dukla when playing the cups.Dukla was a concept, and when Sigma announced that Vaďura would come, it was quite a bomb, "recalled Sigma announcer at Andro's stadium, Miroslav Skácelík. "The first opportunity to see Jirka was the UP Hall. I went back to Sigma as a fan, but mainly to look at the new support. For a few seasons I could not imagine a set without him.If Sigma's Hall of Fame will ever have, Jirka must have his place. "
In the big MF DNES and iDNES.cz poll of the best eleven Sigma of all time, Vaďura did not come to the basic set. "It was the only big surprise for me, otherwise the fans voted in a responsible way and did not forget even the players from earlier times," Zdeněk Psotka, former Olomouc coach, commented. "Vadura was probably the best left defender in Sigma's history. He was a left-handed man, he had a great head, he was Energybet online betting tips not so fast but emphatic. Really good. I do not know who would be better. There is little left-wing people and he excelled in his post, "adds Blacksmith.
But he must have been able to do it. Kubicek adds one story to everyone: "I wanted to sign him a new contract.In the dressing room, I told her to stop at me before training. He came and sat down and looked for a contract for about five minutes. Then he picked himself up without a word and left. He took me a little. I followed him to the cabin, where he sat and told him what it meant to have we all been consulted and what stupid. He stood up, walked upstairs, sat down, signed and went to train without a word…That was Jirka. And who took him like that, he had a devoted friend and co-worker in both the field and the coach. He built Radek (Látal) and Paul (Hapal) and did not hurt. "
Vadour's directness was the most appealing to Machal. "It sat for me. Although I had to save him a couple of times here, as in the case of a quarrel with Radolinsky.I was in the lead for Jirka Kubíček, because he was very busy.

"
Vadura played a total of 222 matches in Olomouc. He left for eight years at Inter Bratislava, with the first league in the town of Drnovice, where he then returned to that first match as coach of Sigma. In the first league, he picked up 251 starts and scored 21 goals. When Machala tells how Vaďura hates concentration, he does not hurt when laughing. There is a clear joy in it, as if the times were back, and they were sitting in the cab again: "As we drove away for two days, it was completely finished. He did not like it at all. In a nutshell, but it suits me. He also traveled to Moravian Beroun. I did not let him go. As a partner he was excellent.We were great friends. "
The family, friends and Sigma tried to help him with a disease that was still rare. "At that time, maybe five people in the republic. Terrible, terrible…"Machal's head is shaken in his head, for some things do not understand and it is useless to look for meaning.
" Nobody knew about his illness at first, he wanted to hide it. Over time, however, everyone knew something was wrong. Friends have supported him, even Sigma. She helped him with the doctors as he could, "says Blacksmith.
Today is the disease first described by German physician Alois Alzheimer, the sixth most common one to die for. It disturbs the part of the brain, so it weakens thinking, memory and judgment.It is the cause of dementia, gradually leading to the patient's dependence on day-to-day care. The most vulnerable are people over the age of 65.
"He started to talk confused, I did not know what was true. I do not like it, "Machala apologizes. "It was terribly sad. I did not want to go to the hospital in Šternberk because I knew him as a good guy, and I did not do it anymore. My parents died too soon. I wanted to remember him as a boy I knew who was healthy. I was very sorry for it."
Like when Karel Plíhal sings about the quiet angels sitting in the garden under the willow mourning:"…I did not have the courage to sit down, they seemed to be silent about me. "
The same guy took an early fight with an unequal fight soon! Legends, however, have the luck of not forgetting them. Never. Not even when you are silent. I know it. Looking at a photo above my parents' table is happening to me.