Last basketball players before Day D: video and training in JFK Street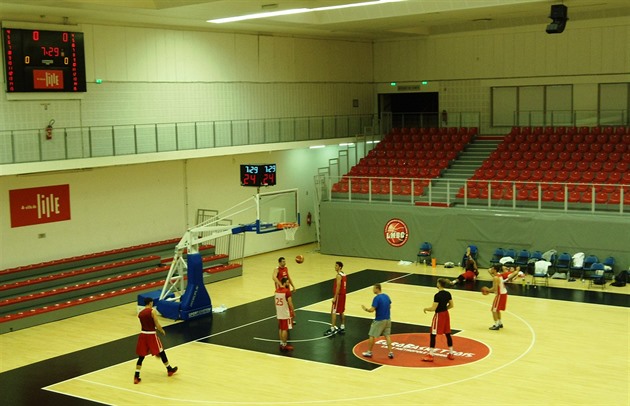 The long class carries the name of the murdered US President, John Fitzgerald Kennedy, and roughly in its midst is the Sports Palace, the European Basketball Championship 2013; but still here as a reminder of this poster tournament you can see Kateřina Bartoňová in lifespan.
Now, however, the PalaisdesSports Saint Sauveur is dedicated to men – as a training hall. An hour after noon, Czechs finish their final preparation before the eighth finals. "One, two, three, lion!", The player and the implementation team will yell at the end of their typical, motivational slogan.
Ravi as a lion, such is the motto of the team.On Sunday at 12.00, Satoransky, Veselý and others will fight in the eight-round match with the Croatians: the opportunity to stay in the championship for another week, dream about medals and to get closer to the Rio 2016 Olympic Qualification.
"We are well aware , what is happening tomorrow, "says Jiří Welsch, team captain.
Training that has been traditionally open to journalists for the last few minutes is actually the first and last proper Czech preparation in Lille. On Friday, the team tested the giant Stade Pierre Maura for a quarter of an hour, with a capacity of 27,000 spectators, but Patrik Auda admits: "Yesterday it was not so soon after the Riga flight.Now the training normally lasted an hour and a half; everything is good, we are ready. "
From the Kennedy Boulevard, the Czechs went to the hotel for tactical preparation. "First of all, we were more focused on how we would play ourselves in the attack.After training, we'll look at some videos, "Auda added.
By the way, when hotels were mentioned – the accommodation of the Eurobasket play-off players does not praise. "As far as I know, all the teams except us complain about the hotel that lives at highway slopes somewhere," says Welsch; agglomeration with the center of Lille is made up of several cities linked by a dense road network, which does not provide the athletes with the perfect comfort.
For the Czech team, this is a bit of contrast: the group played in Riga, a pleasantly compact city, of the Baltics. "There is another atmosphere. In Latvia, it was great: a hotel a short walk from the hall, fanzines, fans, here it is so impersonal.I was not at all happy about the European Championship, "Captain Welsch compares.
But should that be a problem? The team chief refuses vigorously. "Mood is the foundation of success, it must be good," adds Paul Houška. Czechs against Croatia believe in surprise, they hope in their own strength. It will appear on Sunday afternoon.